About Chad Bianco
I was born in 1967 at Hill Air Force Base in Ogden, Utah.  I grew up in a very small mining town, the oldest of three boys.  Both of my parents worked extremely hard to provide the best they could for us while teaching us that hard work and integrity are the cornerstones of success.  I learned that respect as a person, father, employee, and leader, is something that you earn, based on your actions, morals, and integrity.
Throughout high school I was very successful in wrestling and golf, but I excelled at baseball.  I attended college on a baseball scholarship and received numerous NCAA awards and All-American recognition.
My interest in Law Enforcement actually began as a teenager after I had a "business encounter" with a State Highway Patrol Officer.  In addition to him providing me with a "promise to appear," he also sparked my interest in Law Enforcement.  The positive manner in which he spoke to me and the things he said, has stayed with me to this day and influences the way I currently interact with youth.  He took the time to explain the consequences of my behavior while engaging me in the conversation.  I did not realize it at the time, but he could have simply "done the minimum" and sent me on my way.
I moved to California in 1989 and started my own family.  In 1993 I attended the San Bernardino Sheriff's Academy where I graduated at the top of my class.  I was hired by the Riverside County Sheriff's Department shortly after graduation.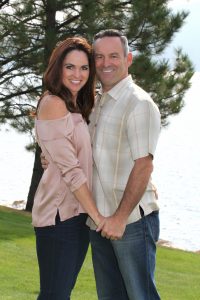 I am happily married to a wonderful wife, mother, and best friend.  She works as a local cable television marketing consultant. Our lives revolve around our four children. We spend most of our time with family and friends and enjoy a very healthy and active lifestyle.  Our family attends and serves at Sandals Church in Riverside.  I believe life is about others, not self.
I promise as your Sheriff, my life, my integrity, my vision, and my purpose, will remain steadfast, and be geared toward the safety of the citizens of Riverside County and the professionalism of the men and women of the Riverside County Sheriff's Department.  Service is about you, not about me.